Hugh Hefner, the owner of the playboy franchise is dead. He died at the age of 91.
"Hugh M. Hefner, the American icon who in 1953 introduced the world to Playboy magazine and built the company into one of the most recognisable American global brands in history, peacefully passed away today from natural causes at his home, The Playboy Mansion, surrounded by loved ones," Playboy confirmed in a statement.
Hugh Marston Hefner was born on 9 April , 1926, to strict Methodist parents. The eldest of two brothers, he served two years in the Army during World War II before finding a job at Esquire as a copywriter.
By 1953 he had saved $8,000 - enough to put the first issue of Playboy together. It hit newsstands in December that year and included an old nude photo of Marilyn Monroe, which Hefner had purchased to add some "oomph" to the centrefold.. The issue sold more than 50,000 copies.
Playboy Enterprises expanded over the years to include television, film, resorts, nightclubs, products, charities and a number of websites. By 1971 it was selling 7 million copies a month.
The nude images of women would be placed alongside in-depth interviews with high profile actors, artists and politicians.
The magazine has sat down also with people like Dr. Martin Luther King Junior, famous writer, hunter S Thompson, Jack Kerouac, Vladimir Nabokov and Margaret Atwood have also had their works published there.
Hefner made several cameos in film and TV, including Sex and the City, and The House Bunny starring Anna Faris as a former Playboy Bunny who suddenly finds herself homeless.
Perhaps his most famous tv appearance was in the acclaimed "playboy Mansions" reality tv.
"Much of my life has been like an adolescent dream of an adult life," Hefner told The Times in 1992. "If you were still a boy, in almost a Peter Pan kind of way, and could have just the perfect life that you wanted to have, that's the life I invented for myself."
Asked in 2013 how many women he had been with over the years, Hefner told Esquire: "How could I possibly know? Over a thousand, I'm sure. There were chunks of my life when I was married, and when I was married I never cheated. But I made up for it when I wasn't married. You have to keep your hand in."
In 2011 he told The Hollywood Reporter: "Could I be in a better place and happier than I am today? I don't think so. In my wildest dreams, I could not have imagined a sweeter life."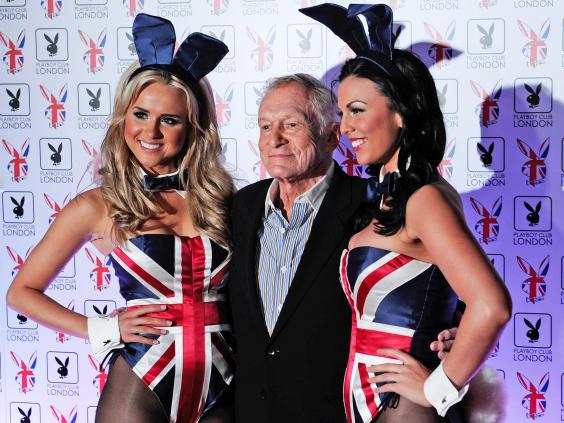 Hefner is survived by his wife Crystal Harris and his four children from previous relationships.